All About The Different Types of Paver Sealers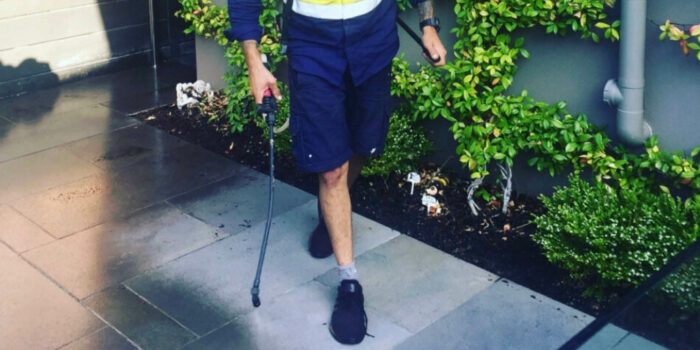 When you put in a lot of time, money and effort to make something beautiful, it is only natural for you to want to preserve its beauty. It's no different when we talk about pavers.
No matter what your paver is made from it has been designed to look great. From the moment the last one is laid, all the way through to the millionth time you walk or drive across it, you want them to keep looking great.
That's where paver sealers come in, as they play an important role in making sure the hard work that's been put into laying the pavers is not wasted and your pavers are kept looking as good as new.
Reasons To Seal Your Pavers
There are several good reasons to seal your pavers. For one, it ensures that the surface covering lasts for a very long time. Since they are constantly exposed to the elements, they will need regular cleaning, protection and maintenance.
Sealing pavers assists in safeguarding the pavers from the damage it faces from weathering, grime, mould and dirt. It helps repel particles that may stain the surface like oil, red wine and whatever you end up throwing at it. It prevents weeds, moss and grass from growing in joints whilst deterring for ants and insects.
Some sealers create a protective finish that enhances the colour and texture of pavers, whilst other sealers offer a natural, unaltered appearance.
Paver sealer is the most effective way to keep your paving clean. There are a number of good quality sealers available in the market which have a life span of 8 – 12 years.
Ideally, you should seal the pavers as soon as the project is completed. However, Australian Paving Centre has cleaned and sealed pavers that are already 10 years old with brilliant results that make them look as good as new.
Keep in mind that there are many types of sealers and your local APC store can advise the best and most suitable sealers for your paving product.
Penetrating Paver Sealers
Penetrating Paver Sealers offer the best defence against water encroachment, chemicals, and the formation of efflorescence. Some also help to prevent and eliminate corrosion or salt attack.
It is easy to apply and gives off an invisible or natural-look finish. Additionally, it makes paver cleaning and maintenance easier.
This type of sealer is recommended for concrete or clay pavers as well as concrete permeable pavers.
Natural Type Sealers
Natural Type Sealers are of premium quality and protects pavers from weed growth and preserves its natural beauty. It forms a hydrophobic barrier within the pores. It will only be detectable once you pour the liquid onto the surface of the paver. When this happens, you will see the water bead off the surface.
Driwal P6*
For a natural type of sealer that does not alter the appearance of the paver, we recommend Cementaide Driwal P6*. It is a silicon-based penetrative sealer suitable for the long-term protection of clay pavers, wire cut bricks, concrete pavers, sandstone, Travertine, Mt Gambier Stone and W.A. Limestone. It is also perfect for our block wall systems.
This sealer is easily applied with a general household garden sprayer and will help to eliminate fungi, mould and stop general weathering and staining of the walling blocks.
Benefits of Applying This Sealer
The modified silicon chains of Driwal P6* chemically react with calcareous materials in the outer 5mm of surface masonry and become part of the surface. The surface can 'breathe' yet is still water repellent in depth and sterilised against organic growth staining. It protects against weathering, grime, mould and decay.
It offers long term preservation of cement/lime-based paints and fibro/cement sheets. Its effective life can last from 8 to 14 years.
Recommended Applications
Driwal P6* is recommended for all external natural masonry surfaces including fibro cement roofs and cladding. It is suitable for exterior concrete, brick and stone work surfaces. It serves as a primer for all exterior paintwork.
Remember not to use this for glazed, polished or other non-porous surfaces.
Cementaide Silicone S50
Cementaide Silicone S50 is an excellent product consisting of a 50/50 mix of silicon-based Driwal P6* and a gloss look acrylic based sealer named LB9, another Cementaide product.
It offers a blend of penetrating sealant that works its way into the substrate of the paver, whilst also leaving a light acrylic surface coat that enhances the colour of the paver product and gives a slight sheen to the paver – a bit like a satin finish.
This type of sealer is the most popular from our experience. It makes cleaning your entertainment area, for instance, a breeze.
The Silicone S50 gives long-term protection to press, and wire cut bricks, concrete pavers, concrete walling and retaining wall block, sandstone, Mt Gambier stone and terracotta or cement tiles.
Benefits of Applying This Sealer
Silicone S50 is a unique combination of Silicones and Acrylic Glazing Liquid. Surfaces treated are not only water repellent but sealed to resist the penetration of rainwater under wind pressure. In a single application, it highlights the natural colour of masonry but does not produce a glazed finish.
Two applications, however, produce a "wetted" effect and a subdued glaze to dense surfaces such as exposed aggregate concrete panels and roof tiles.
It protects against weathering, staining or mould decay while enhancing natural texture and appearance. It is a protective surface treatment for all masonry in marine environments. It provides long-term preservation and protection for pre-cast exposed aggregate panels, architectural concrete and masonry.
Recommended Applications
All natural unpainted masonry surfaces.
Acrylic Sealers
Acrylic sealers are easy to apply and are renowned for their cost-effectiveness. They have high UV repellence and help in maintaining the colour of pavers.
These sealers provide long term protection for brickwork, pavers, roof tiles and concrete where you require a long-lasting gloss finish.
LB 9 Sealer
The LB 9 sealer serves as a penetrating surface coat on pavers. This produces a thicker and glossier finish which repels staining, weathering and dirt. It is an acrylic resin in a penetrating solvent and contains no silicon. It is best applied by brush, a short nap lambswool roller or low-pressure knapsack spray.
It is available in clear glaze or a range of other colours. Remember that if you want to produce a textured or roughened surface by using coloured LB 9, the pavers must be acid-etched first.
Benefits of Applying This Sealer
LB 9 is a high gloss impregnation and surface sealer which dissolves most types of efflorescence and brings out the natural colour of masonry and tiles. It gives the appearance of a wet look to pavers.
It resists penetration, staining and subsequent corrosion from oils, grease, juices, sugars etc. Treated floors are easy to clean with a blower vacuum or hosing down and require virtually no maintenance. Its effective life for exterior vertical surfaces lasts for 12-15 years. Trafficable slabs, however, is 5-8 years or more, depending on traffic.
Recommended Applications
This paver sealer is suggested to be used on pavers in external concrete floors, car park areas, driveways, around paths and in your entertainment area. As it is UV stable, it is also recommended on roofs and wall tiles exposed aggregate, brickwork, limestone, school and kindergarten walls, where long-lasting glaze and surface protection is required.
Your Sealed Pavers
Sealing pavers is a great solution in having your old, weathered, existing paving restored and looking beautiful! We understand that it may seem confusing with all the choices available. What matters, though, is for you to be informed of the uses and specifications of the paver sealers so you can select the perfect one for you.
shop our paving sealers here-
Call us or visit your local APC store so our helpful staff can help recommend the best and most suitable sealer for your pavers.
Visit us at APC to pick up a free sample!
Or, send us a product enquiry or request a quote online