Australian Paving Centre are your one-stop-shop for top-quality retaining walls in Adelaide and the surrounding areas! Our extensive range of retaining wall products is designed to meet the needs of both residential and commercial customers.
Retaining walls are an essential feature of any outdoor space, providing stability, support, and aesthetic appeal. Whether you're looking to create a functional garden terrace or enhance the look of your outdoor living area, our team of landscaping experts is here to help.
At Australian Paving Centre Adelaide, we offer a wide variety of retaining wall products, including natural stone and concrete block options. We work closely with our customers to understand their specific needs and preferences, ensuring that we recommend the best retaining wall solution for their unique requirements.
wHAT dOES A rETAINING wALL dO?
Retaining walls are an excellent way to add beauty and functionality to your outdoor space. Some of the key features and benefits of retaining walls include:
Erosion Control: Retaining walls help to prevent soil erosion by holding back soil and stabilizing steep slopes. This can prevent damage to your property and ensure the safety of your family and guests.
Improved Aesthetics: Retaining walls can add visual interest to your landscape by creating depth and dimension. They can also be used to create planting areas or to showcase decorative elements such as statues or water features.
Increased Usable Space: By creating level areas on steep slopes, retaining walls can help to increase the usable space in your outdoor area. This can be particularly useful if you have a small or sloping backyard which is common in the Adelaide Hills..
Structural Support: Retaining walls can provide structural support to buildings or other structures on your property by preventing soil movement or collapse. They can also be used to support driveways or other heavy traffic areas.
Customisable: Retaining walls come in a variety of materials, sizes, and styles, making them highly customisable to fit your specific needs and preferences. Whether you want a natural stone look or a modern concrete design, there's a retaining wall option for you
By incorporating a retaining wall into your landscaping, you can enjoy all these benefits and more. Retaining walls not only provide functional benefits such as erosion control and increased usable space, but they can also add visual interest and depth to your outdoor area. At Australian Paving Centre Mount Barker, we understand that every landscaping project is unique, which is why we offer a wide range of retaining wall options to fit your specific needs and budget. Our team of experts can help you choose the perfect retaining wall for your landscaping project and recommend professional installation services to ensure a beautiful and functional result. Contact us today to get started!
What types of Retaining Wall Are there?
Interlocking Block retaining walls
Interlocking Block retaining walls are made from precast concrete blocks that are designed to interlock with each other, creating a strong and stable wall. These blocks come in a variety of shapes, sizes, and colors, allowing for a wide range of design options. Block retaining walls are also relatively easy to install, making them a popular choice for DIY projects.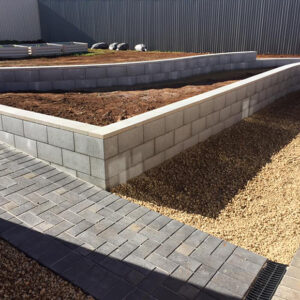 Grey Easy Lock Block
Natural Stone Retaining Wall Blocks
Natural block retaining wall blocks are a popular choice for those looking to create a rustic and natural look in their outdoor space. Made from natural stone or reconstituted limestone, these blocks offer a unique and authentic appearance that is difficult to replicate with other materials.
Concrete sleeper retaining walls
Concrete sleeper retaining walls are made from reinforced concrete sleepers that are designed to interlock with steel posts. They are strong, durable, and long-lasting, making them ideal for areas with high traffic or heavy loads. Concrete sleeper retaining walls can be designed to suit a range of styles and aesthetic preferences, including timber-look sleepers or textured finishes.
Both block and concrete sleeper retaining walls offer a range of benefits, including erosion control, improved aesthetics, increased usable space, and structural support.
Our commitment to quality and exceptional customer service has made us the go-to destination for all your retaining wall needs in Adelaide. We pride ourselves on our competitive pricing, high-quality materials, and attention to detail. So, whether you're a homeowner, landscaper, or builder, trust Australian Paving Centre Adelaide to provide the best retaining wall solutions for your outdoor space.
Find a local store near you to learn more about our products and services or to schedule a consultation with one of our landscaping experts. We look forward to helping you transform your outdoor space with a beautiful and functional retaining wall!
Don't settle for an ordinary outdoor area!
Get your Retaining Wall quote today from the Retaining Wall Experts.
Get Your Ultimate DIY Retaining Wall Guide
Master the art of building a stunning, durable retaining wall in just a few easy steps. Unlock expert tips and tricks, and save time and money on your next project.
"*" indicates required fields