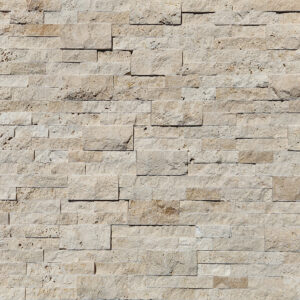 Bookleaf Cladding
FAQ about Retaining Wall Cladding
If you are looking to put in a garden wall but want to elevate its look, or you have an old garden wall that needs improving, applying garden wall cladding over the top will provide instant appeal. It's easy to apply and you can achieve luxurious and stylish walling styles such as stone walling, travertine walling, limestone walling, sandstone walling and more.
Many people turn to concrete sleepers or cement sleepers as they may feel it is a solution for their retaining walls or boundary walls. However, these cement sleepers are not appealing, do not add value to your home and can be unsightly. Our retaining wall cladding can easily be applied over the top of any concrete and cement sleepers to totally transform its look and appeal.
Our Grey blocks are the best product to apply our wall cladding to. Grey blocks are easy to install and are a very cost effective yet strong option for your retaining wall and garden walls. Simply apply any of our retaining wall cladding options to your grey block wall. This total garden wall option can be more cost effective than other retaining wall products.
The great thing about our retaining wall cladding is that it is the perfect solution for anyone to install themselves. Our expert and knowledgeable staff at APC can help talk through the best way to apply your walling cladding.
APC is your one stop shop to buy quality and durable wall cladding in South Australia.
Browse our range online, or visit us instore to speak with one of our expert staff and pick up a free sample.  Click here to find a local store near you.
We have the best retaining wall cladding range in Adelaide to choose from. Visit your local APC store near you to view our amazing retaining wall cladding displays. For those who are handy, we have a huge range of DIY information to help you through every step of installing your retaining wall cladding. Alternatively, we have preferred licensed Tradies to quote for any retaining wall cladding installation.
APC Has you covered for Retaining Wall Cladding in Adelaide
What Is Retaining Wall and Garden Wall Cladding?
Retaining Wall and Garden Wall cladding is a walling product that can be applied to an existing wall to improve the aesthetics. Wall cladding is effective when used in combination with grey block products or over concrete sleepers or cement sleepers. Concrete sleepers can look unattractive so applying our cladding will transform the look of your outdoor space, any boundary walls and unsightly retaining walls. Using garden wall cladding can also be a more cost effective walling option yet provides a more appealing finish. Our cladding range is perfect for DIY as it's easy to install.
Shop Wall Cladding Online 
Whether you are looking for natural stone, Travertine, limestone, sandstone, man-made cladding and concrete, we have a walling solution that will suit your style. Browse our range online or visit us instore to speak with one of our expert staff and pick up a free sample.