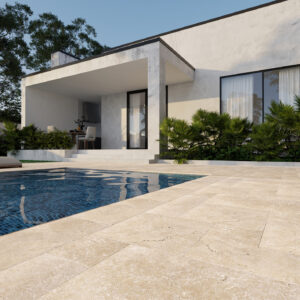 Classic Blend Travertine
APC Has you covered for Pool Pavers in Adelaide
Australian Paving Centre has a wide range of premium pool pavers that are sure to make your pool area the envy of others. All of our pool pavers are salt resistant, cool under foot and slip resistant and pass the wet bare foot test so they are made for your pool areas.
We also have a selection of matching pool coping for a flawless and seamless finish. The main benefit of our pool pavers and pool coping is simply our range and choice of styles and colours to suit all pool styles.
If you're after a large format paver, travertine pavers, concrete pavers or even bluestone and granite we have a huge selection of colours and textures to suit your home.
Our range of pool coping include a range of bullnose, corners and rebated drop face copping that are the perfect finish for your pool.
Other products such as concrete or slate around pools retain heat and may burn bare feet which is why it's important to ensure your pool product is cool under foot. Our range of pool pavers list their features and benefits, to help make choose your pool paver product even easier!
We have a product to suit any budget from our more cost effective range to our high end premium finishes. We can work with your budget to help you achieve your dream home.
Whatever your home improvement project, DIY or building a new home, at APC we have the largest range of products in Adelaide. Visit your local APC store and pick up a free sample.
Browse through our extensive collection below.