Patio and Alfresco Pavers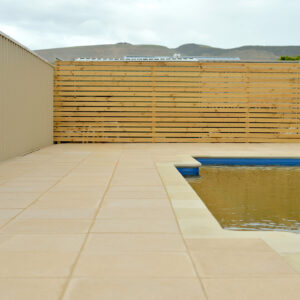 Alfresco Smooth Pavers
APC Has you covered for Patio and Alfresco Pavers in Adelaide
Here at Australian Paving Centre we have an extensive range of patio and alfresco pavers that come in a range of colours, sizes and textures to suit all homes and lifestyles.
Our pavers include stain and slip resistant and can come in a range of brick, concrete, large format, natural stone, traditional and contemporary styles that make a lasting impression for your patio and alfresco areas.
Our patio pavers also include travertine, bluestone, granite and including matching paving tiles that is suitable for your outside entertaining areas and inside spaces as well. Large pavers are perfect for a more contemporary modern style whilst our clay pavers or brick pavers include more traditional paving styles and colours. Paving patterns can also change the appearance of a paver as well as mixing complementary colours and even types of pavers to create stylish designs.
We have a product to suit any budget from our more cost effective range to our high end premium products. We can work with your budget to help you achieve your dream home.
Whatever your home improvement project, DIY or building a new home, at APC we have the largest range of products in Adelaide. Visit your local APC store and pick up a free sample.
Browse through our extensive collection below.