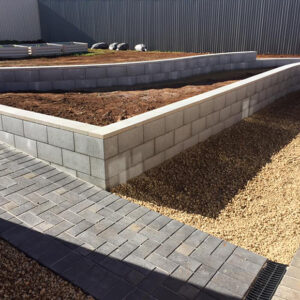 Grey Easy Lock Block
Build your perfect garden or retaining wall
Launch our retaining wall and garden wall builder to help you choose the right products for your project
Get Your Ultimate DIY Retaining Wall Guide
Master the art of building a stunning, durable retaining wall in just a few easy steps. Unlock expert tips and tricks, and save time and money on your next project.
"*" indicates required fields
APC Has you covered for Concrete Sleepers in Adelaide
Concrete sleepers and cement sleepers are a strong, durable and reinforced retaining wall product that is used for a range of different retaining purposes. Designed to hold and make your walls sturdy for years to come, they are designed to be used in tight spaces and boundaries.
You need to keep in mind that concrete sleepers tend to be around 2m long and weigh as much as a person and heavy to manoeuvre so these are not suitable for DIY.
If handling and installation could be an issue, view our range of Retaining Wall Blocks which are a cost effective option and great for the DIYer.
Speak to our expert staff at APC on how we can help you with your retaining wall project.