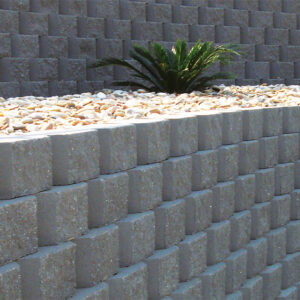 Backyard Block
FAQ about Garden Walls
Concrete garden wall blocks are the best blocks to use for your garden wall. They are easy to build, versatile, economical and will last you a lifetime. Whats more, they are also DIY friendly so you can complete the build yourself. To help you choose your garden wall blocks, you can also read about What are the best Garden Walls here.
Many garden wall block products make it simple to build your garden wall as they often require no mortar. This means you can take on this DIY project yourself. We have a range of simple garden wall products where are available in a range of sizes, colours and finishes. We recommend our Garden Stone product as no mortar is needed, no capping units and are easy to stack.
There are a range of garden wall blocks you can use. You need to determine if you are building a straight garden wall or a curved garden wall. This will help work out which product is the right choice for your garden wall. To help you choose your garden wall blocks, you can also read about What are the best Garden Walls here.
Yes. Building a garden wall can be relatively simple and can be a DIY project. Garden wall blocks and fairly light weight and easy to handle. Some have interlocking features to help with building and some don't require capping units to make it even easier. You read our DIY Tips and Tricks for the Perfect Garden wall here.
APC Has you covered for Garden Walls in Adelaide
Garden walls are a fantastic way to add instant visual impact to your landscaped gardens in both your front or back yard of your property. One of their main key features and benefits is that you can create different, separate levels on a sloping block allowing you to maximise the overall usable space in your surroundings.
Garden walls are becoming increasingly popular to separate sections of your yard or landscaping and act in a way to create a focal point of your property, create garden beds, veggie patches or provide separation to your lawn areas. Our range of garden walls are also perfect for DIY projects.
No matter if you are an expert tradie, landscaper or wanting to tackle a DIY project we have a wide range of garden blocks and walls suitable for you. So if you are looking to update or enhancing your courtyard, or wanting concrete wall blocks for garden edges, specially designed blocks for terraces, outdoors and garden wall steps you can't go past our range at Australian Paving Centre.