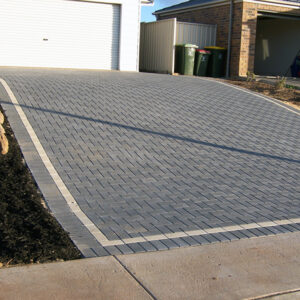 Brick Paver
FAQ about Budget Pavers
We have the best budget pavers range in Adelaide to choose from. Visit your local APC store near you to view our budget paving displays. For those who are handy, we have a huge range of DIY information to help you through every step of laying your pavers. Alternatively, we have preferred licensed Tradies to quote for any paving installation.
APC Has you covered for Budget Pavers in Adelaide
At Australian Paving Centre, we understand the importance of finding high-quality paving materials at an affordable price. We believe that everyone deserves to have a beautiful and functional outdoor space without breaking the bank. Whether you're looking to enhance your garden, create a stunning patio or revamp your driveway, we've got you covered with our wide range of budget-friendly paving options.
We have a selection of pavers that will suit any job or any budget you may have. Our range of budget pavers include a selection of our top sellers including concrete pavers, clay pavers, driveway pavers, brick pavers, outdoor pavers, granite pavers, Travertine and bluestone pavers. They also come with a large selection of colours, sizes and finishes.
Features of Budget Paving:
Extensive Range: We offer a diverse selection of budget paving options to suit every style and need. From brick pavers to concrete pavers, Travertine to driveway pavers, we have a range of choices to cater to your project.
Quality: While our prices are budget-friendly, we never compromise on the quality of our paving materials. We source our products from trusted manufacturers who ensure durability and that your investment stands the test of time.
Cost-Effective: Our budget range provides an affordable solution for those who are looking for cheap paving without sacrificing on aesthetics or functionality. We believe that cost should not hinder you from achieving your dream outdoor space.
Benefits of Budget Paving:
Affordability: Our budget paving options allow you to transform your outdoor area without breaking your budget. By choosing our cost effective pavers, you can achieve the desired look and functionality at a fraction of the cost compared to higher priced alternatives.
Versatility: Whether you're planning a small backyard project or a large-scale renovation, our budget paving range offers versatility to meet your specific needs. You can mix and match different styles, colours and textures to create your own look.
Increased Property Value: Investing in paving not only enhances the visual appeal of your property but also increases its market value. With our economical paving solutions, you can make a significant improvement to your outdoor space while enjoying a return on investment.
Choose Budget Pavers for Your Economical Paving Needs: Our budget paving range are designed to suit your style, home and budget
At Australian Paving Centre, we take pride in offering high-quality yet affordable paving options that cater to your budget and style. Similar to our other product ranges they are all hard wearing, extremely durable and perfect for any job or occasion.
At APC, experience the benefits of our cost-effective materials and achieve the outdoor space you want. We've had the privilege of serving customers all over Adelaide for all their budget paving needs.
We have a product to suit any budget from our more cost effective range to our high end premium finishes. We can work with your budget to help you achieve your dream home.
Whatever your home improvement project, DIY or building a new home, at APC we have the largest range of products in Adelaide. Get in touch with us today to explore our budget paving range and start your journey towards an impressive and budget-friendly outdoor transformation! Or visit your local APC store and pick up a free sample.