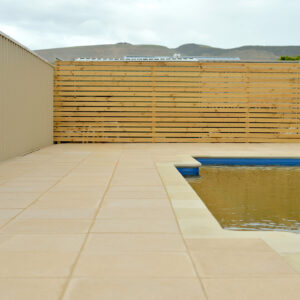 Alfresco Smooth Pavers
APC Has you covered for Large Format Pavers in Adelaide
Here at Australian Paving Centre we have a range of premium large format pavers on offer across all our APC stores. They are available in a wide variety of colours, shapes, textures and sizes to enhance the look of your patio, entertaining areas, garden spaces, pool area, walkways, even cladding and feature walls.
Large format paver sizes are increasingly popular and provide your home with a luxurious and contemporary look. Designed to be used in a range of different applications and can be used as both outdoor pavers and for indoor use, you will be sure to find the look you are after. 
Some of our large format pavers come in a matching tile so you can use the one product throughout the inside and outside of your home to create  a seamless finish using the one product.