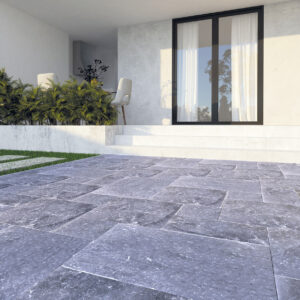 Bluestone Marble
APC Has you covered for Indoor Outdoor Pavers in Adelaide
Here at Australian Paving Centre we have a wide variety of both indoor outdoor pavers and tiles that are perfect for a seamless paver option that can flow between the inside to outside areas of your home for a seamless look. 
Our indoor outdoor pavers are not only stylish but are also highly durable and low maintenance which makes them perfect for high volume foot traffic areas, for families, entertaining and pet friendly!
With a range of Travertine, Marble, Bluestone and Granite pavers that are luxurious, versatile and very popular. Not only are they slip and stain resistant, but they can be used in areas such as; pool paving, entertaining areas, patio and alfresco paving, kitchens and bathroom. 
Our Stoneware paving and tile products are also suitable for cladding so you can pave your outside areas, tile your inside areas and clad the outside of your home for a total seamless, one product finish.
We have a product to suit any budget from our more cost effective range to our high end premium products. We can work with your budget to help you achieve your dream home.
Whatever your home improvement project, DIY or building a new home, at APC we have the largest range of products in Adelaide. Visit your local APC store and pick up a free sample.
Browse through our extensive collection below.