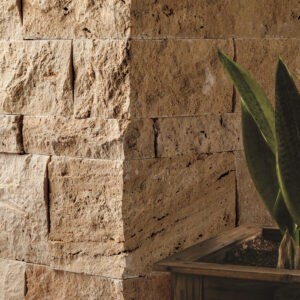 Pitched Travertine Wall Cladding
APC Has you covered for Wall Cladding in Adelaide
Here at Australian Paving Centre we have a wide range of Stone and Wall Cladding solutions for all your projects and building needs. 
Stone and wall cladding are a thin layer of stone that is applied to an area that adds depth, texture and design. The most popular application of cladding are to projects like; feature walls, fireplaces, pool surroundings, entertaining areas and more. Not only that, but you also have the ability to use them both outdoors and indoors.
Wall and stone cladding is timeless and elegant and will provide value to your home. Not only is our cladding range stylish, but they are easy to install and great for the DIYer.
If you are trying to achieve a contemporary, coastal, rural or rustic look, you will be sure to find what you are looking for in a rang of different styles, textures and colours.
Explore our range of cladding options below or visit one of our many Australian Paving Centre locations throughout Adelaide.