Top 10 Landscape Design Software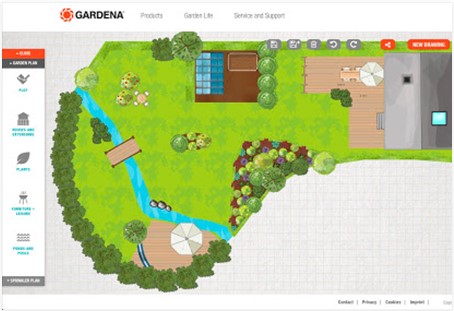 When you're ready to build your landscape design but you don't have any drawn plan. If you're having difficulty getting an accurate representation of your ideas from your designer, this list might help you. We are featuring today's best free landscape design software. Start turning your dream landscape design into reality.
Benefits Of Using Landscape Design Software
Technology is evolving, now any amateur can design a landscape with a little imagination and the click of a button. There is much easy-to-use, quick, and free landscape design software that you can use at home.
The best thing about using landscape design software? It streamlines the process of designing. A simple hand drawing can take you a total of 10 hours, with landscape software and apps, you can do it in just about 6 hours. Using software makes it simpler to start a project rather than be on site to build landscape layouts. It saves time and money.
These apps give you the freedom to express your ideas and turn them into a 2D or 3D photorealistic walkthrough.
SketchUp is an easy to use CAD solution that specialises in 3D modelling. SketchUP can be used not only in landscape but a variety of elements. You can create models of the interior, furniture, buildings and anything that you can imagine. SketchUp is popular for its professional quality features.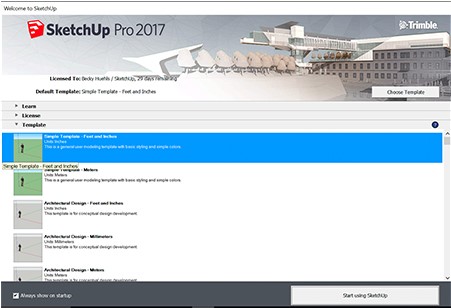 Features
You can create 3D models.
You can customise the SketchUp Interface to suit the tools to your preference.
You can import files from other 3D Modeling programs or tools.
Available Features for Free and Paid Versions
Here are the features of the SketchUp Free and SketchUp Pro version
Available Versions
SketchUp is as a web-based application, and you can download it as a desktop client. You can create an account at SketchUp and get a free 30 day trial for their apps. Sign up for a free trial of SketchUp Pro, Sketchup Viewer, SketchUp for Web, 3D Warehouse and Trimble Connect (collaboration tools).
For mobile application, you can download SketchUp viewer for iOS and Android.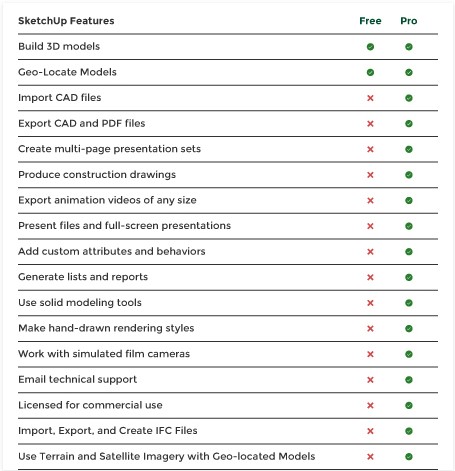 Users' Feedbacks
"I like the range of colours offered by the program to paint objects designed in three dimensions. It is a very easy to use software that has multiple work tools that facilitate the design of the objects being saving in time of work time because it does not merit studying much software to be able to handle it without any difficulty.
I like it because it is recognised among professionals, and on the web, many documents facilitate the design of objects. I like the diversity of tools and the ability to design objects allowing to perform a rendering referred to the process of generating image or video. Other advantages are that it is compatible with AutoCAD, the most recognised program for its quality and professional level."
I do not like that you can only work in small areas. Therefore the work of large structures or infrastructures is very cumbersome. Another of the program's weaknesses is that it depends on a computer with a powerful memory card to take full advantage of the tools and potentials it offers. Because otherwise, the design process of the objects is quite slow and difficult to work.
-Amny N
Ingeniero Analista de Producción
Mid-Market
(51-200 employees)
Lands Design is a fully dynamic software and plugin for Rhino. The software can create realistic 3D images and virtual tours. One of the features it showcases is its ability to generate technical plans for a project.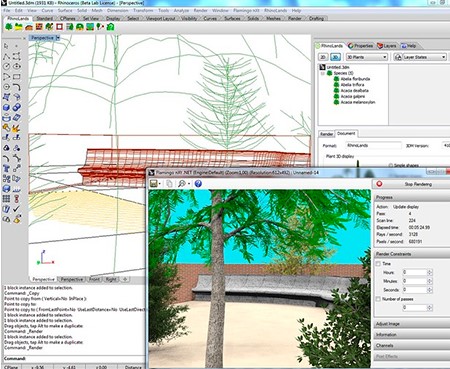 Features
You can design actual 3D plants with over 1800 species.
The plant database has technical specifications and characteristics for each species.
You can create terrains and use free-form modelling.
You can use the tools that will enable you to arrange trees, shrubs, and ground covers.
Available Versions
Lands Design is compatible with Windows 10, 8.1, 8, 7, Vista, XP and Rhino 6 and 5. It is also compatible with VisualARQ 2.4. The beta version is free, but it will expire 120 days after the installation. The commercial version will be released soon.
Download it Here
Garden planner is a garden and landscape design tool. You can arrange trees, plants, flowers, and other objects. It has a library of over 1200 plant and object symbols. It is simple and straightforward to use.
Features
An extensive collection of plant and object symbols totalling to 1,200.
A drag and drop interface which makes it very easy to use.
You can create plans, design, and images that produce high-quality print output.
You can create a library of custom plants.
You can generate a report of all the objects in your garden.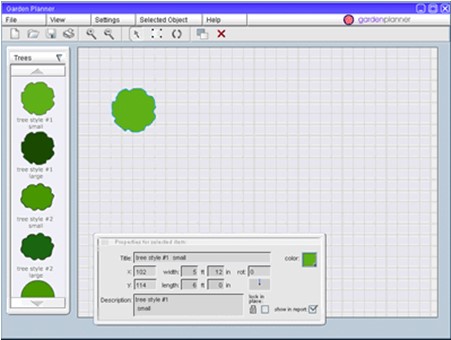 Difference Between Free and Paid Version
Run all the features in the trial version for 15 days. After the trial version, print outs and exported images will have a watermark on them.
Available Versions
The free trial and licensed version have the same system requirements. You can download the latest version Garden Planner 3.7. The operating system required for this software is Windows 10 or Win 8, Win 7 or Win XP, Win Vista and 20MB hard disk space.
For Mac users, the operating system should be Mac OS v10.6 or higher with an Intel Core Duo 1.83Ghz or faster processor.
Garden Planner offers a free trial for 15 days while the licensed version at $38. Garden Planner grants free licenses for non-profit organisations, community groups or schools.Feedback From Customers
Pro: The bulk of this program's features are available through an easy drag and drop functionality.
Cons: This program is limited to 2D top-down view with unrealistic graphics.
Verdict: Garden Planner could work for planning the basic layout for your yard or garden plan, but it's not a good choice for multifaceted landscape design.
DreamPlan is a design software where you can create a plan with a realistic 3D model. NCH Software published the software. The software is for home and floor plan, landscape, and garden design, interior and room design. DreamPlan is also great for remodelling, additions and redesigning.
Features
You can put planted trees and gardens.
You can reshape the terrain of outdoor landscaping areas.
You can create an outdoor swimming pool.
You can switch between 2D, 3D, and blueprint view modules for home and floor planning.
You can use Trace Mode to import a scanned image file of your floor plans and turn it into an interactive 3D model.
Available Versions
A free version is available for non-commercial use. The cost of DreamPlan Home Designer for commercial use is $40. The software has a version for Windows and Mac OS X.
Download it Here.
Feedback From Customers
"The freedom of creativity of the program is AMAZING. I will say that it has allowed me to create house models that my clients (who are not as technology inclined) love."
"The speed of the program is lacking – I also would love an update on the menu items.
Recommendations to others considering the product
I would say that the DreamPlan Home Design Software is the best in its area, but their interface has a lot to be desired, unfortunately."
Shamira A.
5. Showoff.com The Visualizer
The Showoff.com Visualizer is a free software application with a variety of elements and objects to help you form your ideas into a plan.
It allows you to use a camera to search for your photo automatically.
It has a catalogue of images with seven categories, including decks, outdoor furniture, landscape plants, and patio garden.
It has a landscape plants gallery with over 2000 choices of annuals, perennials, trees, hedges, edibles, and other plant types.
You can add patio furniture and other non-plant elements.
Available Versions
You can download the free program here. The program is compatible with WinXP, WinVistax64, WinVista, Win7 x64, Win7 x32, and WinOther.
Feedback From Customers
"It's very easy to use, and a great tool for clients to be able to "visualise" what the proposed design is."
"Some materials don't always look very realistic and can overwhelm clients."
Raluca F.
The iScape app is excellent for users who are looking to collaborate with designers. iScape App features a community of designers and industry partners. It makes it easy for you to create a plan and build your landscape project from start to finish.
Features
Easy-to-use design tools
You can easily share your project with a friend or a landscape designer.
It also allows you to buy and order products based on your iScape designs.
There is an active community of iScape users who are designers and industry partners.
Difference Between Free and Paid Versions
The iScape Pro allows you to create a business profile and become a Certified iScape Designer. You can connect with new prospects and clients to provide landscape design services. Signing up for the pro version will provide with you several tools and features. Unlimited access to thousands of plants, trees, and hardscape images. If you don't see the object you need, you may upload custom images.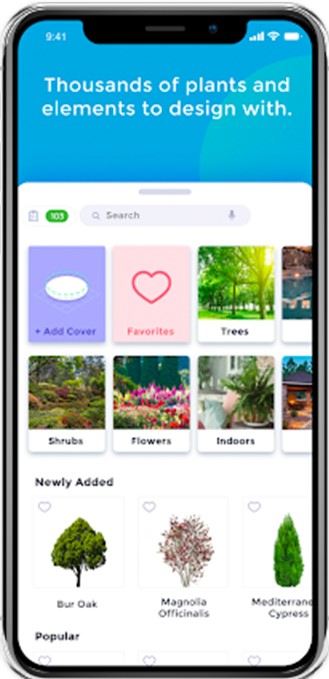 Available Versions
iScape is available on iOS devices only. You can download it in iTunes for free. However, it may require you to pay for the subsequent in-app purchases.
Monthly Pro Subscription at $19.99
Monthly Consumer Subscription at $4.99
iScape Plus 1 Month at $9.99
Yearly Pro Subscription at $99.99
iScape Plus 3 Months at $14.99
Feedback From Customers
"Easy to use. While the app is easy enough to use, it does beg additional purchases to complete a plan effectively. Enjoying but could use more"
-PenneyPG
"I am really enjoying using this, but I am surprised about the plants that aren't there like Butterfly bush, flowering spiraeas, Japanese forest grass, blue fescues, to name a few. So I did upgrade to the pro package because I've been working in a high-end garden centre for the last eight years, so I know I'll use it often enough but also because I have quite a few photos of plants that I wanted to add to the database. However, every time I try to upload an image, it says there is an error, and sometimes it closes the app. Would love a fix of this or my money back because that's the most I've spent on an app and if the function I want doesn't work then whiskey tango foxtrot Overall good quality of images that are in the database."
-houstonaki
Reviews from www.apprview.com
SmartDraw is an online tool that can help you create different types of diagrams, charts, and visuals. The online tool can also help you create a landscape design project. There are templates made by the in-house designers which you can edit based on your idea.
Features
It has 70 types of diagram.
You can export your landscape project as a PDF or as an image file.
You can open your project and insert it to Microsoft PowerPoint, Word, and Outlook.
The project can also be shared by sending the link and can be viewed even without having to install SmartDraw.
You can import and export via Visio
Save and open projects from Dropbox and Google Drive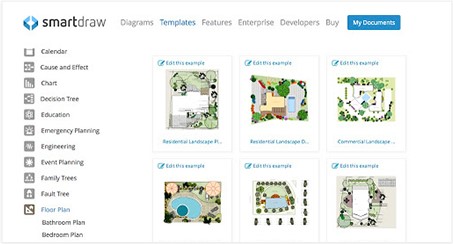 Available Versions
Sign up for SmartDraw account for free and use their web application online. You may purchase a license once you create an account. For a single user, it costs $9.95 per month, billed annually. For multiple users of 5 and more, it costs $5.95 per month, billed annually.
Feedback From Customers
"Lots of inbuilt contents and templates. It operates quickly and easily. A strong diagramming tool is available as a windows downloadable program or as a cloud-based service. Cloud storage is available."
"File folders options are not new versions. In the Gantt chart, there is a limited number of columns that can be used. The timelines are a bit difficult to work with. Sometimes the bubbles take on a mind of their own and don't let you move and manipulate them easily."
Margi k.
Gardena MyGarden is an online free garden planner. Gardena is a company based in Germany, and they are known for their complete range of products offering high-quality garden tools in Europe and more than 80 countries all over the world.
With the online planner, users can draw and create their garden plan and integrate an irrigation system. They have a set of examples from a small, medium, and extensive gardens. You can select your preferred garden example and start editing.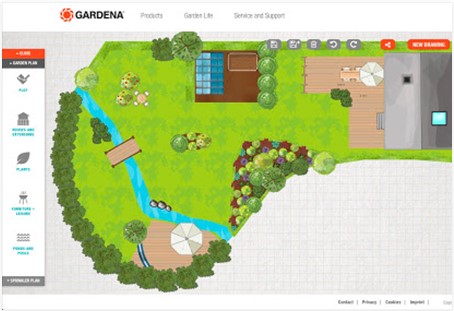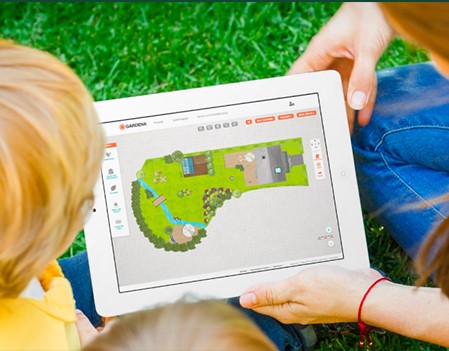 Features
You can start creating or editing a project without signing up for an account.
You can plan the irrigation with their built-in sprinkler system online planner.
You can input the exact dimension of your property.
Add specific features like house, flowerbeds, paths, and garage.
Available Versions
MyGarden tool is only available as a web application. Check out their garden tool application by visiting this link.
Idea Spectrum published RealTime Landscaping software. It's an award-winning landscape design software for homeowners and professional designers. With RealTime Pro, you can design a landscape in full 3D model. Like every app, the tools are effortless to use.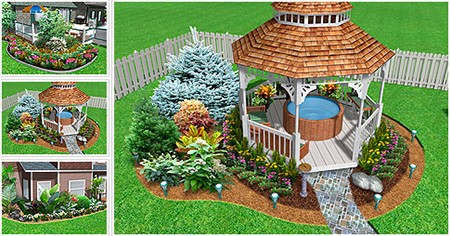 Features
Lets you create movie presentation for a powerful effect.
It has 5,300 specific plant elements such as trees, shrubs, flowers, cacti, palms, and many more. It has the common and botanical name, planting and climate zone, and plant sizes.
It has a "House Wizard" option to create a new house or use a template. It can be a single or multi-story house to enhance your landscape design.
It has a vast selection of landscape lights. Use Realtime walkthrough feature for a night simulation with realistic lighting and shadows.
You can use the Plant Growth tool to predict the size of the plants from 3 months to more than 20 years. This tool will guide you on the spacing and size considerations.
You can design patios, landscape pathways, fences, and driveways by drawing their outline or shape.
If you have a custom paver and could not find the material in the library, you can import a photo.
It provides a quick cost estimate using the integrated project material list. Enter the prices for the landscaping objects and print the result or export as an excel file. It will automatically update when you edit or make changes in your landscape design.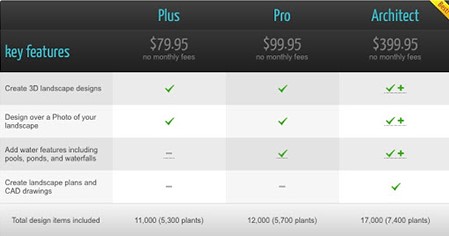 Available Versions
There are three versions for RealTime Landscaping. Download a free trial of RealTime Landscaping Architect here.
Feedback From Customers
"The ease in which I was able to learn the program."
"Anytime I put plants in they never touched the ground… I always had to shorten the distance."
Ashley C.
Better Homes & Gardens produced Plan-a-garden online web app. It is a design and planning tool, that is free to use by homeowners and DIY home designers. Before designing your landscape, the app will let you choose the scenery. Are you going to create an entryway? A front porch? A back patio? A backyard pond?
Select a type of house and hardscaping elements, like fences, ceramic pots, gazebos. You can even add a basketball hoop to spruce up the landscape design project.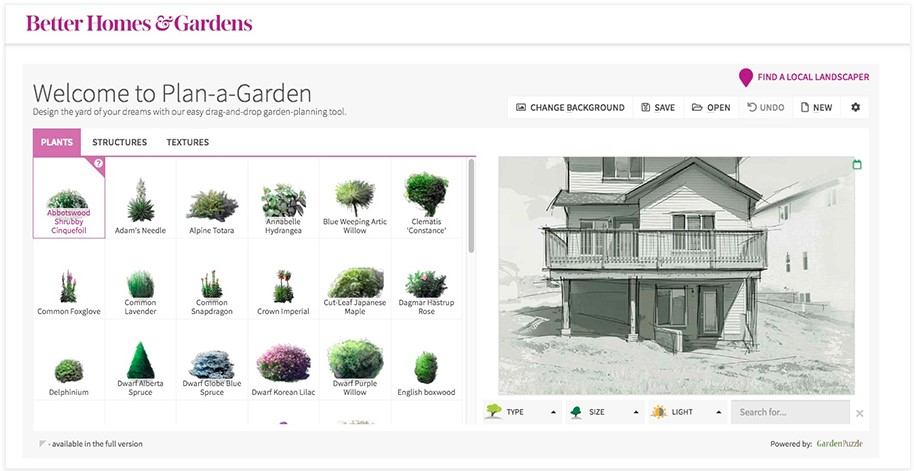 Features
A database of 150 plant elements, including shrubs, flowers, and trees.
You can add hardscapes such as buildings, sheds, fences, and decks.
Drag and drop feature.
Available Versions
Sign up an account here and use the tool for free. For the full version of the tool, it will direct you to sign up for a subscription plan at GardenPuzzle.
Feedback From Customers
"I like that I can upload a picture of my own garden space about all, but I also like that everything I use in this tool is available to buy or plant, which makes this different than imagining my own garden or using a garden simulator in architecture programming."
"Exactly what makes this program great also causes limits. I want more options for my own furniture, but the placeholders of the benches, gazebos, etc. they provide still help me visualise."
Autumn E.
You're Free To Choose
In the past, garden layouts have been drawn in blueprints, which makes the landscape design process slower. However, the technology is evolving, making it easier to engage with interactive designs.
With many options for a free and paid landscape design software, anyone can design their dream landscape. It's easy, convenient and straightforward. You can create a 3D model, place specific objects and details and create a virtual tour all in the comfort of your home.
There are no more excuses to delay your dream project. Install a mobile app, a program on your desktop or visit their web application online. Choose the one that you think is best and will suit your needs.
Visit us at APC to pick up a free sample!
Or, send us a product enquiry or request a quote online