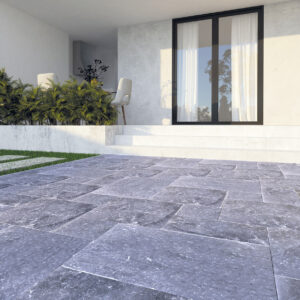 Bluestone Marble
Get Your Ultimate DIY Paving Guide!
Looking to give your driveway or patio a fresh, new look? Get your hands on our FREE DIY Paving Guide now! Learn the step-by-step process of paving, including expert advice and money-saving tips that will make your project a breeze. Don't just dream about your ideal outdoor space – create it!
"*" indicates required fields
APC Has you covered for Bluestone in Adelaide
Here at Australian Paving Centre we have a wide range and variety of natural stone and bluestone pavers. All of our pavers are durable, hardwearing, stain resistant and are suitable for indoor or outdoor use, entertaining areas and patios, courtyards and more.
Bluestone Marble varies in colour, sizes and patterns, making them the ideal decorative stone for your home. You can apply Bluestone Marble just about anywhere, whether it's for a seamless indoor to outdoor flooring with our Bluestone tiles and pavers, cobbles for driveways, or pools and entertaining areas.
At Australian Paving Centre speak to our expert staff on how you can use Bluestone Marble around your home to add a touch of luxury that will give you a seamless finish throughout your home.
Browse through our range of bluestone and natural stone or call in to your nearest APC and grab a free sample!