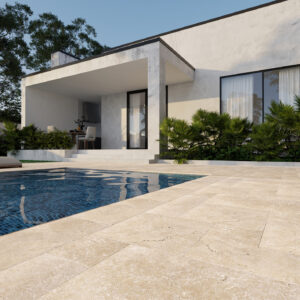 Classic Blend Travertine
Get Your Ultimate DIY Paving Guide!
Looking to give your driveway or patio a fresh, new look? Get your hands on our FREE DIY Paving Guide now! Learn the step-by-step process of paving, including expert advice and money-saving tips that will make your project a breeze. Don't just dream about your ideal outdoor space – create it!
"*" indicates required fields
APC Has you covered for Travertine in Adelaide
Here at Australian Paving Centre we have a wide range and variety of natural stone and travertine pavers. In recent years Travertine has become very popular due to their visual appeal as they provide elegance and character that you get from natural stone. As Travertine is cool under foot, it's perfect for pool areas plus we offer matching pool copers and step treads so you can achieve a seamless finish. These timeless pavers are also suitable for entertaining areas, facades, paths, patio and alfresco areas. Our Travertine also comes in a range of tiles so you can achieve a cohesive indoor to outdoor look with the one product. Travertine French Pattern is popular for entertaining spaces and pool areas and provides a superior quality, luxurious and elegant style to any space or home.
At Australian Paving Centre we have a wide selection and range of Travertine and natural stone  pavers for you to choose from that will give you a seamless finish throughout your home.
Browse through our range of pavers and natural stone pavers or call in to your nearest APC and grab a free sample!