Masonry Cladding & Veneers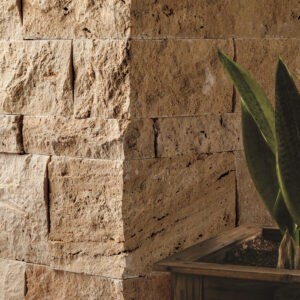 Pitched Travertine Wall Cladding
APC Has you covered for Masonry Cladding & Veneers in Adelaide
At Australian Paving Centre, we understand the importance of finding the perfect materials to bring your vision to life. That's why we have an assortment of high-quality masonry cladding and veneers to suit any style or project.
Our collection showcases an array of textures, colours and finishes, allowing you to effortlessly enhance your indoor or outdoor spaces. From traditional designs that exude timeless charm to sleek and modern stone veneers that add a touch of sophistication, we have something to match every taste.
Not only do our masonry cladding and veneers offer aesthetic appeal, but they also provide durability and longevity. Crafted from top-grade materials, these products are built to withstand the test of time and maintain their beauty even in the harshest weather conditions. Our selection includes options that are resistant to moisture, UV rays, and fire, ensuring peace of mind and longevity for your investment.
Installation is a breeze with our easy-to-use masonry cladding and veneers. Designed with convenience in mind, these products are lightweight and straightforward to install, saving you time and effort during the construction process. Whether you're a seasoned professional or a DIY enthusiast, our materials are user-friendly and accessible for all skill levels.
Browse our Masonry Cladding & Veneers collection today and let your imagination run wild. Discover the perfect solution to elevate your space and create a captivating environment that will leave a lasting impression. At APC, we're here to provide you with top-notch materials and exceptional customer service every step of the way.