15 Brilliant Ideas On Budget Landscaping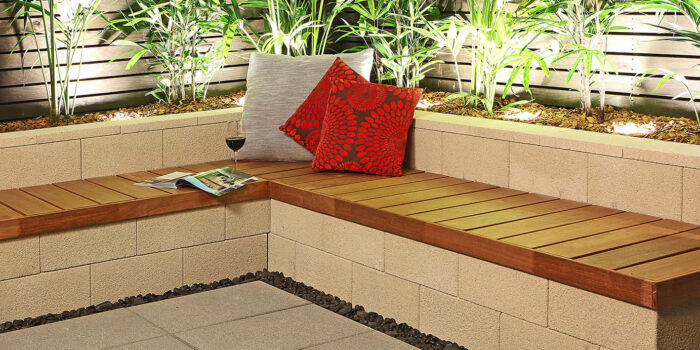 Landscaping on a budget can be frustrating. You can get discouraged from different factors. Most of the time, the stress comes from ordering materials and products from different stores.
Here at Australian Paving Centre, we understand how frustrating it can be. In fact, we've received many distraught phone calls and had frantic store visits. Whether you need to match a colour to your existing landscape or your supplier has backed out from delivery, you can rely on us.
Read more as we discuss brilliant ideas on landscaping that can surely help you stick to your budget.
Affordable Landscaping Tips
There's plenty of affordable landscaping tips for your backyard. You don't need to be fearful of what it might cost! These landscaping ideas are simple, and you can have them at an attainable price that's guaranteed to turn heads.
1. Add a Flower Bed Border
Flowers add beauty to any garden. Blossoming perennials can immediately bring your garden to life and add a pop of colour. The best way to highlight them is by adding a flower bed border.
In the image above, the homeowners didn't want to mix their grass, pathway, and flowers. Using retaining wall blocks, they achieved a sophisticated terrain.
Get the same look using Flagstone –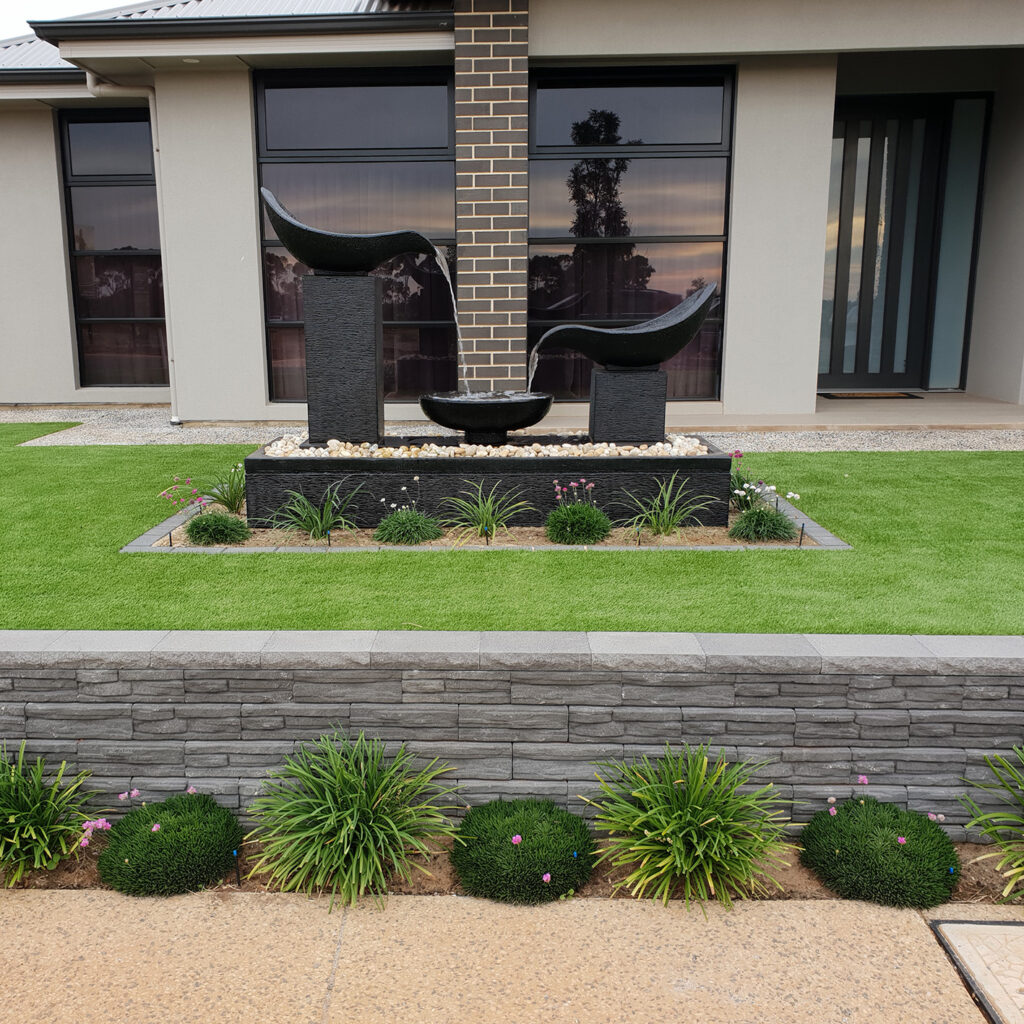 2. Add a Path
Create enchanting anticipation, whether it leads to your front door or backyard, by adding a path. If you've allocated a more substantial part of your budget on a different material but still need a pathway, try adding stepping stones.
The lovely homeowners in the left image wanted a pathway that could withstand heavy rains. They wanted to be able to walk around without getting soggy shoes. By using stepping stones, the owners achieved an aesthetic look without the need to cover an entire pathway. The technique saved them more money!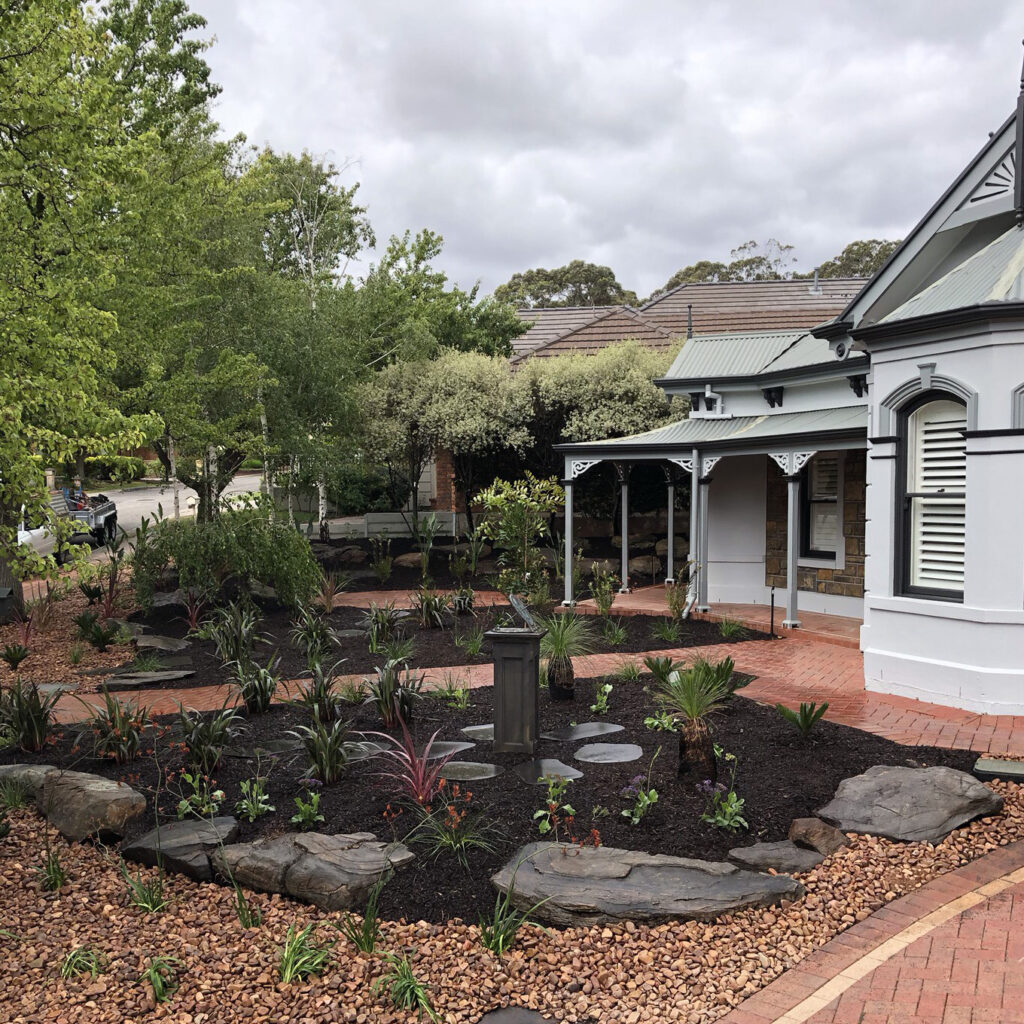 3. Use a Retaining Wall
Retaining wall blocks are fantastic if your block has a slope. These add-ons give excellent support and add beauty to your yard.
We use two examples for this tip because we simply can't decide which one is better. It seems we just love them both!
In the image on the left, the homeowners had a sloping land for their front yard. Having planned the steps for this area, they had a hard time looking for retaining wall blocks that match. That is, of course, until the house owners came to visit our store. They got a quote for just one product without having to deal with different suppliers!
The image on the right is one of our favourites. The lovely homeowners were in quite a dilemma when they gave us a call. The slope needed retaining wall blocks that could create curved walls but were still durable. We provided them with just the right product and needless to say; we were speechless with the outcome!
Start your curved walls with Junior Block –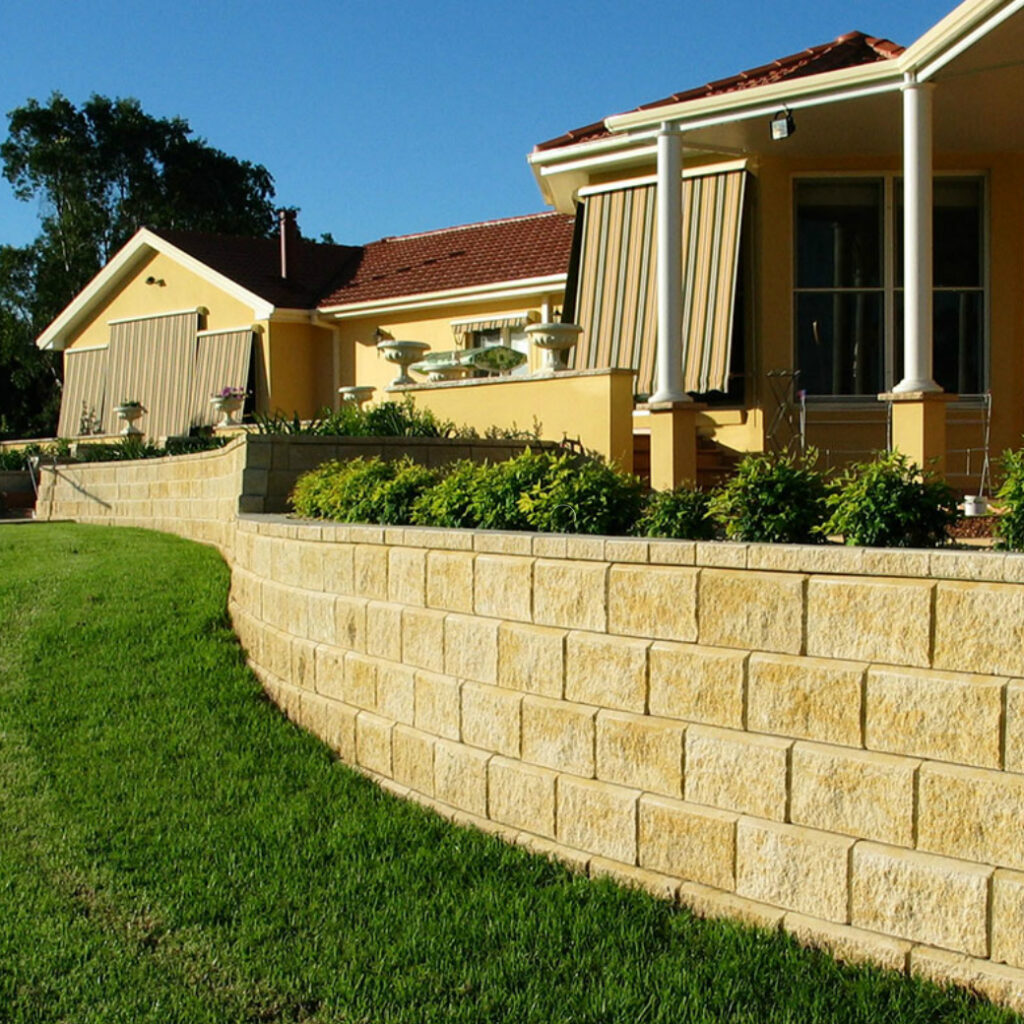 4. Use Colours to your Advantage
Using colours on a landscape is very crucial. If you want to achieve a scene that's pleasing to the eye, you need to understand that colour is the main attraction.
Add Splashes of Bright Colours
Create a contrast of colours on your yard by using different elements. By using different parts of the yard, you can tie them all together and still form a harmonious space.
Another good example we want to point out were homeowners who wanted to use bright coloured furniture. The family wanted a product that will complement whatever colour their pieces of furniture had and stray away from white.
The results were amazing. Your eyes go straight to the pieces of furniture that give a pop of colour, but the contrasting colours still unify the scenery as a whole. The colour swatch complements the look even when you add the wood element to the picture.
Copy the same look with Versawall in Charcoal –
Use Warm Tones
If you're not fond of using bright colours and want to stick to the classics, try using warm tones. Designing your landscape in warm tones can be a bit tricky, though. You have to find the right swatch to create a unified look where your view all comes together.
The homeowners wanted warm tones to exude a cozy look but didn't want to show the excess usage of brown. By using a neutral tone for pavers, the brown pieces of furniture didn't clash with the wood fence.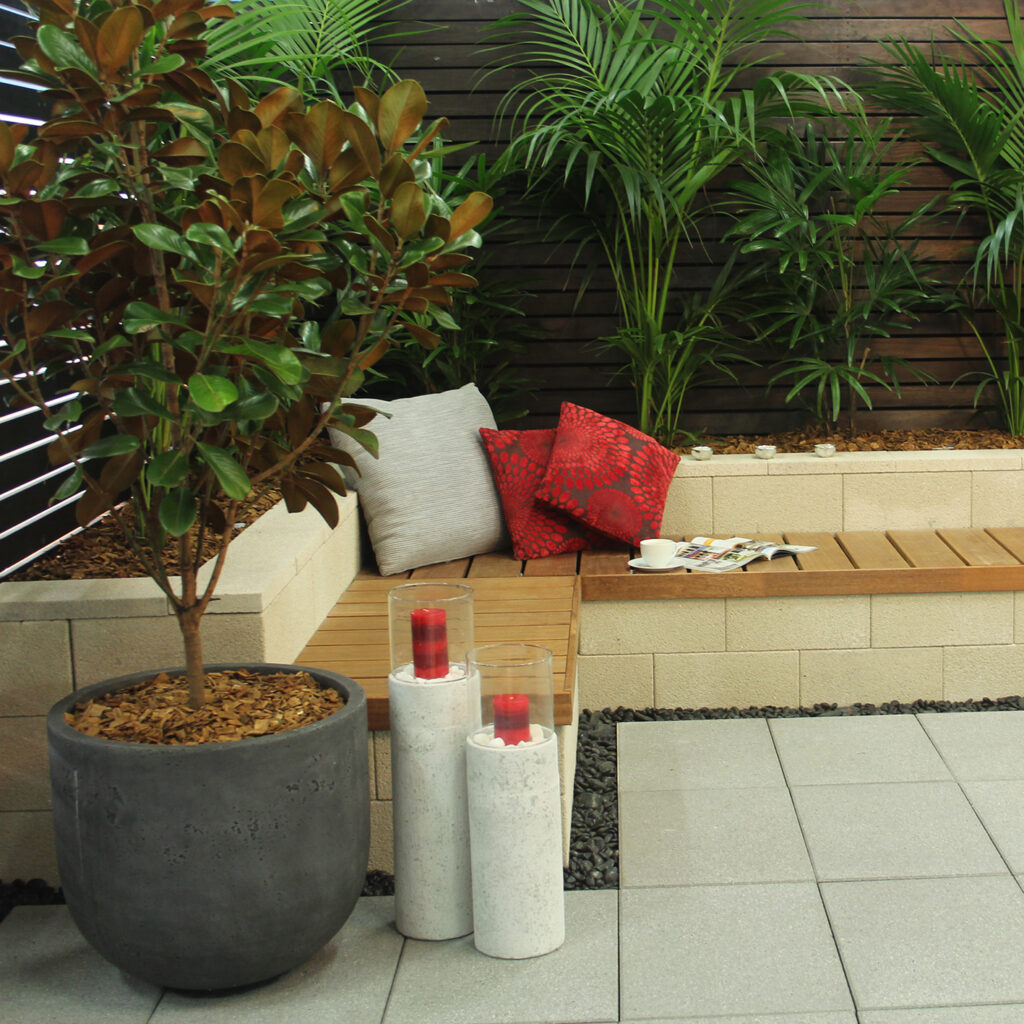 Focus on an Area
You don't have to make use of colours in your whole yard. You can focus on an area and make it the centre of attraction, such as your sitting area or the pathway to your pool.
The pathway used just one type of paver. But, the homeowners took advantage of the swatches available. By using dark colours for the borders, it enhanced the creamy texture of the retaining wall blocks. Brilliant, right? And it was cheap because they just used one product.
5. Build an Outdoor Firepit
Complete the look of your backyard with a fire pit. You no longer have to hire a contractor for this. We have provided a simple DIY fire pit you can quickly finish over the weekend.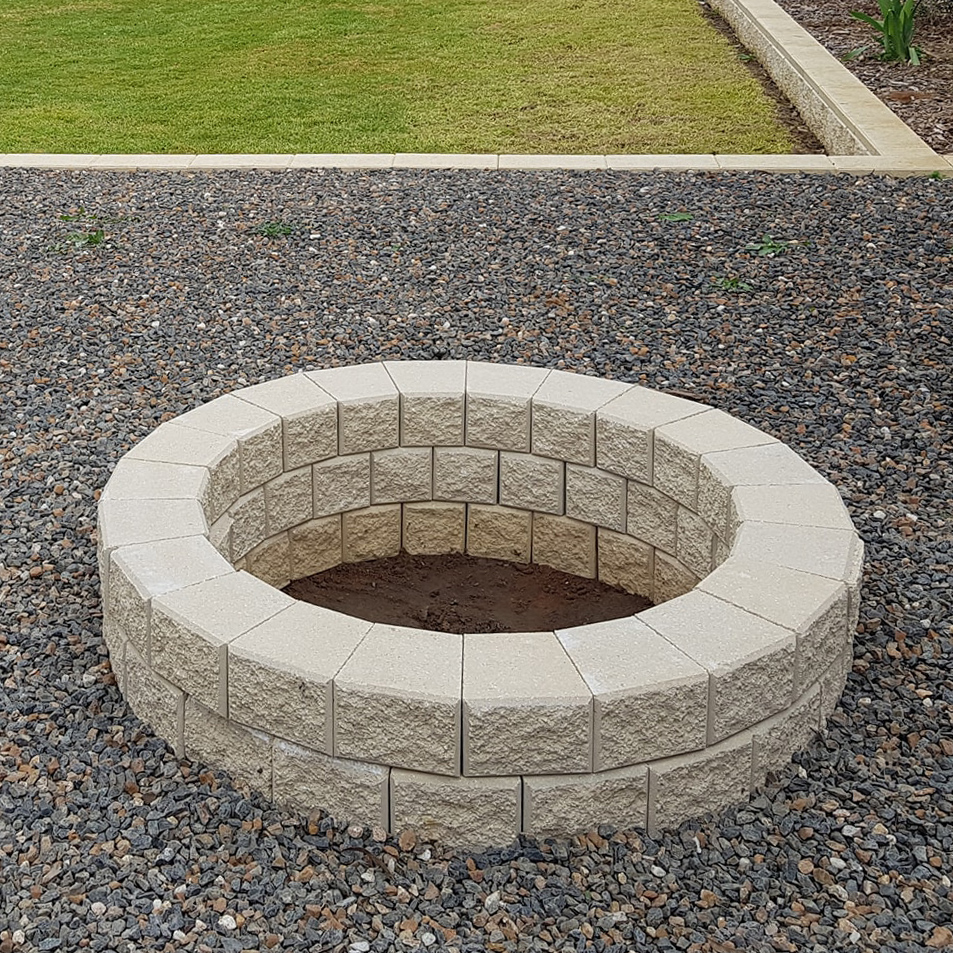 6. Use Borders
Borders are great because of their versatility. If you need to separate grass from your pathway, or your flower bed, you'll need boundaries for those.
Stick to your budget by using one type of material for your borders and stairs. You'll achieve an aesthetic look and won't have to worry about adjusting your design, or trying to use other materials.
Achieve the same look with our Garden Stone.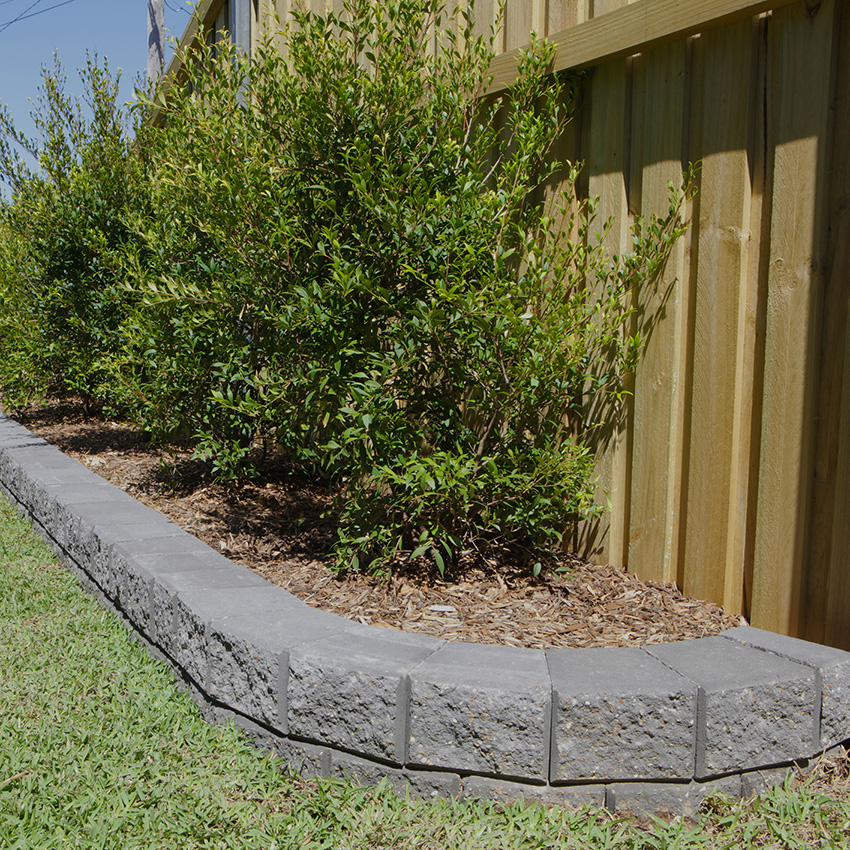 7. Revamp your Patio with Pavers
Patios are usually for entertaining guests or a place for hanging out. If you plan to renovate your patio, try changing the pavers. It will give it a modern look without hurting your budget.
Try, for instance, clay pavers. The lovely homeowners in this photo wanted something simple without too much maintenance. By using the same couch and adding a few bright colours to lighten the area, the final look was stunning. You'll never guess that all it took was a change of pavers and a can of paint.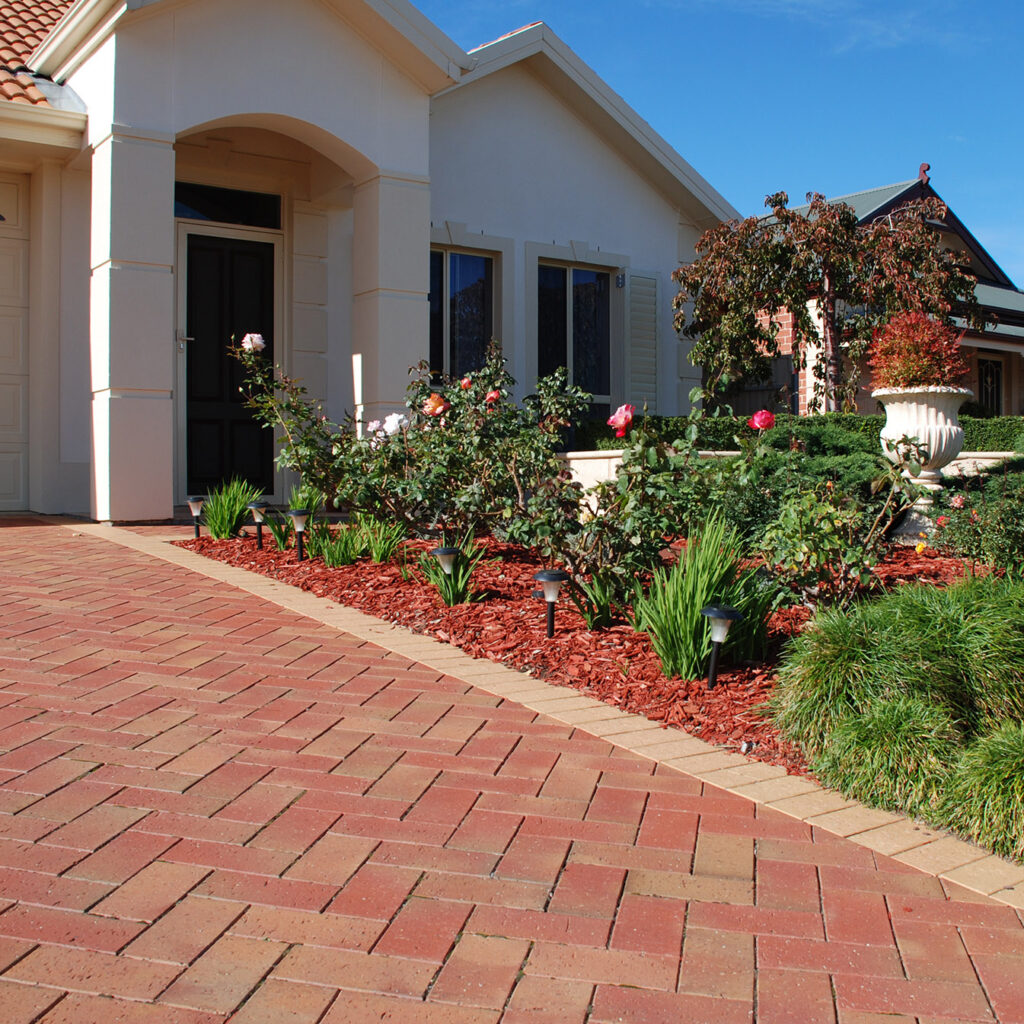 8. Use Simple Elements
Tight on budget? We have the right product just for you. These cheap pavers are lightweight, and you can easily use them for DIY projects. They're cost-effective, which makes them a popular choice.
If you need to replace pavers for utility areas or garden paths, you can always go with a paver with natural colours. It's easy on the eyes and can blend well with your furniture and terrain design. Our cheap pavers are multi-functioning, too, and come in three natural colours.
9. Add Texture and Character
Going for a simple but modern look? Try adding texture and character to your plan. Nobody wants a boring design where people just end up passing by without a second glance.
Need inspiration? We've got two for you. The homeowners on the left wanted a modern look for their home — something classic but contemporary at the same time. The initial design was too dark even for them, and when they shared their landscape design with us, we instantly knew what to suggest. By using dry-stacked stones, the house got a new texture without clashing with the bricks. The outcome looked gorgeous and gave off the impression of elegance.
The homeowners wanted more texture, as their home has a light and straightforward design. But they didn't want to spend so much on different types of materials. With our suggestion, the couple achieved the plan they envisioned without going over budget.
Copy the same look with wall cladding –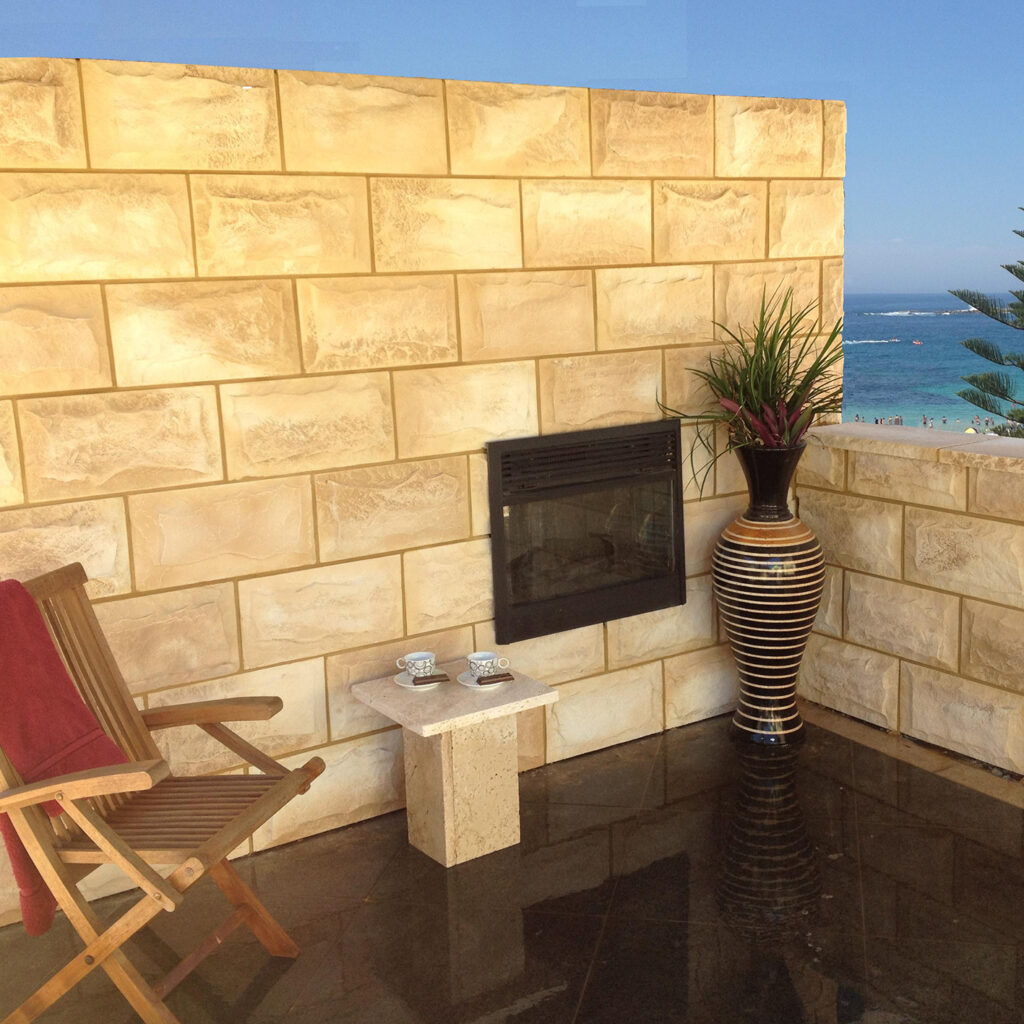 10. Check for Sales and Discounts
The best way to stick with your budget is to check for sales and discounts. You can then adjust your design if the material you've chosen is available in a different size. You also have to note that not all vendors will post all sales or discounts on their site.
We've taken note of this and made a page dedicated to our specials and seconds. Browse through our products, and we're sure you'll find the best value for your money without compromising the quality.
Check our Specials and Seconds and find great deals.
Pool Landscaping Ideas
Adding a pool to your backyard can be expensive. But you don't need to go over budget on every feature. With proper planning, you can allocate your budget accordingly.
11. Mix Grass and Pavers
If your pool area is larger than anticipated, you can save on your budget by mixing grass with pavers.
Using the sample images above, you can choose to cover an area in grass instead of pavers. If you have a pathway to the pool, try laying them in gaps and letting the grass grow in between them. Doing this will limit the number of pavers you'll need and help you stay within your budget.
12. Sleek Courtyard and Pool Area
If you want to add design to your pool area, you can always go with pavers. Instead of using different materials, you can save by using one type of paver. You can choose different colour swatches if you want to separate your courtyard and pool area.
The image above is from a lovely home whose owners were looking to replace the pavers around their pool. With our suggestion, they left our store pleased having gotten a lower quote from what they were expecting. The homeowners were happy they were even able to replace the pool copers!
13. Stylish Landscape Using One Element
When designing your yard, the best way to achieve a sleek look without overspending is by using one element for design consistency. Doing this creates a picturesque backyard that looks like you've hired a professional designer.
One of our favourites, the image above shows how using one element can make your scenery come together. The homeowners achieved this when they used a single type of paver for the pool, pathway, steps, and even the courtyard.
Landscape Themes for Inspiration
Browse through these themes for additional inspiration. As a bonus, we've added links to the products used, so you don't have to look through countless stores.
14. Rustic Look
Achieve a rustic look by using timber. But, if you're not too keen on the maintenance, try using stoneware instead. You create the same look but get better durability and lower maintenance.

Sale Now On!
15. Modern Look
Want a modern look that will blend in with muted colours? Try a travertine paver. It goes well with any furniture colour, so you don't have to buy new sets.

Sale Now On!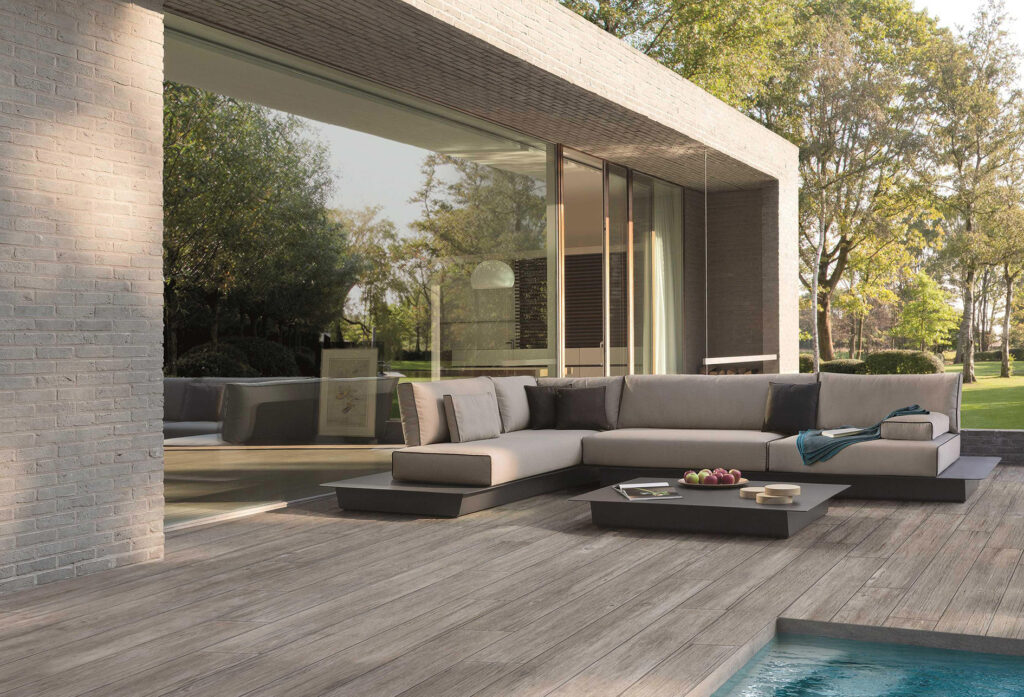 Budget Landscape Supplies
When it comes to supplies, you can never go wrong with Australian Paving Centre. We offer the most extensive range of pavers that caters to landscape building.
We have everything you need for pavers with our vast collection. Our products not only boast different ranges, but we also have different colour swatches to match varied themes.
Add visual impact to your garden terrain with garden walls. Whether you want curved or sharp corners, we have the right garden wall for your yard.
Avoid dreary yards with garden edging. Create an area where you don't need to worry if the weeds will go out of control. Or your grass is growing outside of their designated area.
Set the anticipation using steps for high traffic areas. Use your creativity and make it part of your garden.
Achieving A Professional Landscape
You don't need to spend thousands of dollars to create a professional-looking garden. Using the images we showed above for inspiration, you can get the same look. With the proper materials and supplies, you don't need to cave to low-quality materials because your budget won't cut it.
Another proven tactic is to look at professional backyards and check other stores if they happen to have the same product at a lower cost. Here at Australian Paving Centre, you'll find what you're looking for without breaking the bank.
Are you inspired to start your landscape? Browse through our products here!
Visit us at APC to pick up a free sample!
Or, send us a product enquiry or request a quote online